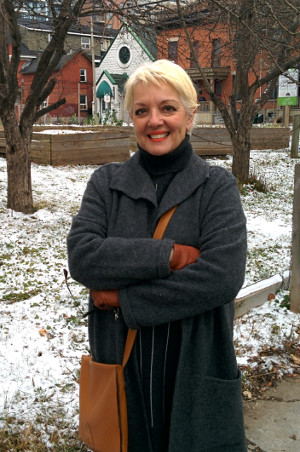 Geometry, proportion, and contour are the heart of Gina's Colville-esque designs. Her interpretations of female faces, fabrics and sparse landscapes reveal her love of sinuous lines, soft colour, and clean outline.
Gina's attention to detail is exhibited in both her miniature watercolours and in her larger works, where a sense of heightened realism is combined with a touch of abstraction. A visual tension intrudes and challenges the natural equilibrium of ordinary surroundings.
Gina holds a Bachelor of Arts from the University of Toronto specializing in Art History. Her love of visual art led her to her current career of jewellery design and her independent pursuit of oil painting.
Her works have been shown at the Ottawa Art Gallery, in a group show at Constitution Square, at the Arbor Art Gallery, Kanata Civic Art Gallery and in the Trillium Studio Tour. You can see Gina's works now at Orange Art Gallery.
Contact me at artist[AT]ginabielinski(DOT)com